$19.99
AUD
Category: Christmas
Twas the night before Christmas, and all through the house, Not a creature was stirring, not even a mouse. Even though that mouse was curled up, fast asleep The pong from its butt made everyone weep. What a stinky Christmas! But who has done the biggest fart of all?

$18.99
AUD
Category: Cookery - Food - Drink
After the fantastic Decorating Cupcakes, Cakes, & Cookies, baking queen Annie Rigg is back with more than 25 gorgeous and achievable ideas for cupcakes for the holiday season. If you are a novice baker and would like to make something pretty but un-fussy to bring to a festive party, why not look at the Simple chapter for inspiration? Try the Gingerbread Cupcakes, which will fill the house with the warming, spiced smells of Christmas. Cute cupcakes will appeal to the little kid in all of us--make a basket of adorable Snowmen, complete with marzipan noses and ribbon scarves, or even a flock of Robins, and put a smile on someone's face. Decorative cupcakes are that little bit more sophisticated and bound to impress. There are clever ideas, such as little cakes topped with miniature gifts or "Glass" Stars made out of molten sweets. Cupcakes are everyone's favorite sweet treat, and there's really no better time to indulge and get baking than Christmas time, so try some smart Candied Clementine Cupcakes or some quick and easy Gingerbread Men-topped Cupcakes. * Inspiring photography by Kate Whitaker. * More than 25 easy-to-follow recipes for delicious and imaginative cupcakes. * Cute companion to the bestselling Cupcakes book, also published by Ryland Peters & Small--more than 171,000 copies sold. ...Show more
Jingle Bells
by Louis Shea (Illustrator)
$19.99
AUD
Category: Christmas
Jingle bells, jingle bells, jingle all the way. Oh what fun it is to ride in a one horse open sleigh! Hop aboard and take a fun-filled ride through the forest. But what happens when there are too many animals in the sleigh? Sing along with Lucy Durack!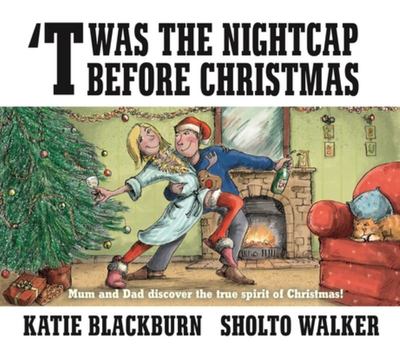 $20.00
AUD
Category: Christmas
It is Christmas Eve and as usual mum and dad are knee-deep in presents that need to be wrapped. Dad suggests a sherry 'to keep us both going.' Then out comes the Baileys. And mum hits the rum. Hours of merriment and a stocking-clad tango later, they drift off to sleep - the living room in disarray, the presents unwrapped and their careful Christmas preparations in ruins. But come morning it seems a mysterious visitor has saved the day. ...Show more
$17.99
AUD
Category: Christmas | Series: Pig the Pug
Santa was coming! Twas bigger than big! No-one loves Christmas more than Pig. And the worlds greediest Pug will stay up all night to get his presents! Includes removable PIG THE ELF window sticker!  
$17.99
AUD
Category: Christmas | Series: Stink-O-saurus
Christmas is in trouble... but Stan has a plan to 'waft in' and save the day!The dinosaurs can't wait for Christmas morning, but unfortunately Santa is having transport problems. Stan heads off to the North Pole to see if he can help. Luckily, he comes up with a super (if smelly) solution! Can Stan the Stink-o-saurus live up to his hero reputation and save Christmas Day? ...Show more
$29.99
AUD
Category: Christmas
The timeless Christmas classic from the iconic Dr. Seuss is now available in ebook. Read this favourite story of joy, love and acceptance anytime, anywhere! (This ebook is optimised for Kindle tablets and the Kindle App. It is not suitable for e-Ink kindle devices, such as the PaperWhite. We recommend y ou download a sample to your device before purchase if in doubt.) "The Grinch hated Christmas! The whole Christmas season!Now, please don't ask why. No one quite knows the reason..." With a heart two sizes too small, the Grinch is the meanest creature you'll ever meet. He hates Christmas and the whole festive season. But when he hatches a dastardly plot to steal Christmas, he's in for a big surprise! This classic seasonal story has become a favourite for good reason. Through hilarious rhymes and beautiful illustrations, Dr. Seuss teaches readers the true meaning of Christmas. With his unique combination of hilarious stories, zany pictures and riotous rhymes, Dr. Seuss has been delighting young children and helping them learn to read for over fifty years. Creator of the wonderfully anarchic Cat in the Hat, and ranked among the UK's top ten favourite children's authors, Dr. Seuss is a global best-seller, with over half a billion books sold worldwide. ...Show more
$11.99
AUD
Category: Christmas
There was an old lady who swallowed a star. I dont know why she swallowed that star... Now thats bizarre! It is time for Christmas and the old ladys festive appetite is enormous! Hold onto your chimneys as even Santa isnt safe from the old ladys chompers this year! Surely shell POP!

The Raggedy Snowman
by Joe Fitzpatrick; Mark Kummer (Illustrator)
$17.95
AUD
Category: Christmas | Series: Flowerpot Holiday Ser.
The heartwarming story of The Raggedy Snowman is sure to be a family favorite. This holiday season introcude your family to the Raggedy Snowman. He has an important message to share: "Make the most of each moment, make the most of each day, love the people around you, and take time to play."