$15.99
AUD
$19.99
(20% off)
Category: Drama | Reading Level: good
A universal story of love, friendship, and growing up. At school Connell and Marianne pretend not to know each other. He's popular and well-adjusted, star of the school football team, while she is lonely, proud, and intensely private. But when Connell comes to pick his mother up from her job at Marian ne's house, a strange and indelible connection grows between the two teenagers-one they are determined to conceal. A year later, they're both studying at Trinity College in Dublin. Marianne has found her feet in a new social world while Connell hangs at the sidelines, shy and uncertain. Throughout their years at university, Marianne and Connell circle one another, straying toward other people and possibilities but always magnetically, irresistibly drawn back together. And as she veers into self-destruction and he begins to search for meaning elsewhere, each must confront how far they are willing to go to save the other. Sally Rooney brings her brilliant psychological acuity and perfectly spare prose to a story that explores the subtleties of class, the electricity of first love, and the complex entanglements of family and friendship. Longlisted for the 2018 Man Booker Prize Winner of Novel of the Year at the An Post Irish Book Awards Winner of the Costa Novel Award " Rooney] has been hailed as the first great millennial novelist for her stories of love and late capitalism... she writes] some of the best dialogue I've read."--The New Yorker   ...Show more
$12.95
AUD
$15.95
(18% off)
Category: Middle Readers 7-12 years
From No. 1 bestselling children's author, David Walliams comes his biggest and most epic adventure yet! This is the story of a ten-year-old orphan and a 10,000-year-old mammoth... Read all about it! Read all about it! ICE MONSTER FOUND IN ARCTIC! When Elsie, an orphan on the streets of Victorian London, hears about the mysterious Ice Monster - a woolly mammoth found at the North Pole - she's determined to discover more... A chance encounter brings Elsie face to face with the creature, and sparks the adventure of a lifetime - from London to the heart of the Arctic! Heroes come in all different shapes and sizes in David Walliams' biggest and most epic adventure yet!   ...Show more
$24.99
AUD
$29.99
(16% off)
Category: Middle Readers 7-12 years | Series: Asterix Ser.
Gaul was divided into three parts. No, four parts - for one small village of indomitable Gauls still held out against the Roman invaders. BOOK 1 When Getafix is kidnapped by the Romans, Asterix penetrates their camp to rescue him with hair-raising results...
Rebecca
by Daphne du Maurier
$17.99
AUD
$19.99
(10% off)
Category: Chick novels | Series: Virago Modern Classics | Reading Level: near fine
'Last night I dreamt I went to Manderley again . . .' Working as a lady's companion, our heroine's outlook is bleak until, on a trip to the south of France, she meets a handsome widower whose proposal takes her by surprise. She accepts but, whisked from glamorous Monte Carlo to brooding Manderley, the new Mrs de Winter finds Max a changed man. And the memory of his dead wife Rebecca is for ever kept alive by the forbidding housekeeper Mrs Danvers . . . An international bestseller that has never gone out of print, Rebecca is the haunting story of a young woman consumed by love and the struggle to find her identity. ...Show more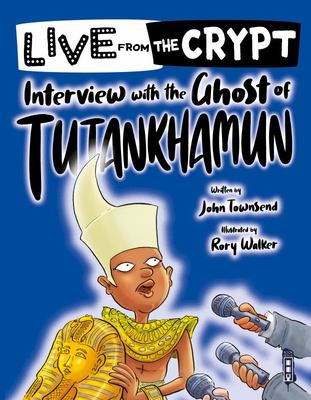 $16.99
AUD
$18.99
(10% off)
Category: Middle Readers 7-12 years | Series: Live from the Crypt Ser.
Live from the Crypt is a hilarious information series with an undead chat show format where ghostly historical figures are interviewed by the crew of the show about their lives and experiences, featuring quirky illustrations, comic strips and Q&A-style text.In this volume, the boy pharaoh Tutankhamu n talks about his short and mysterious rule as pharaoh of Egypt and his very long afterlife as a mummy, including being discovered by Howard Carter and achieving worldwide fame. ...Show more
$24.99
AUD
$29.99
(16% off)
Category: Personal Development
From the bestselling author of AM I DOING THIS RIGHT? comes an honest, hilarious, entirely relatable illustrated guide to living life right. And wrong.  
Items per page:
1 - 6 of 6