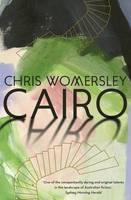 Cairo
by Chris Womersley
$10.95
AUD
Category: Crime and Thrillers
Frustrated by country life and eager for adventure and excitement, seventeen-year-old Tom Button moves to the city to study. Once there, and living in a rundown apartment block called Cairo, he is befriended by the eccentric musician Max Cheever, his beautiful wife Sally, and their close-knit circle of painters and poets. As Tom falls under the sway of his charismatic older friends, he enters a bohemian world of parties and gallery openings. Soon, however, he is caught up in more sinister events involving deception and betrayal, not to mention one of the greatest unsolved art heists of the twentieth century: the infamous theft of Picasso's Weeping Woman. Set among the demimonde - where nothing and nobody is as they seem - Cairo is a novel about growing up, the perils of first love, and finding one's true place in the world. ...Show more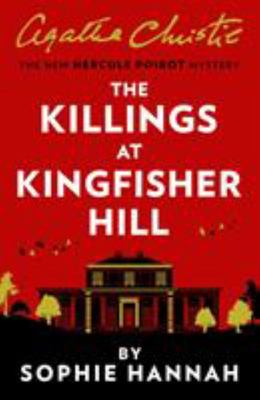 $32.99
AUD
Category: Crime and Thrillers | Series: New Hercule Poirot Mysteries Ser.
The world's greatest detective, Hercule Poirot-legendary star of Agatha Christie's Murder on the Orient Express and Death on the Nile-returns to solve a fiendish new mystery. Hercule Poirot is travelling by luxury passenger coach from London to the exclusive Kingfisher Hill estate, where Richard Devonp ort has summoned him to prove that his fiancee, Helen, is innocent of the murder of his brother, Frank. But there is a strange condition attached to this request: Poirot must conceal his true reason for being there. The coach is forced to stop when a distressed woman demands to get off, insisting that if she stays in her seat, she will be murdered. Although the rest of the journey passes without anyone being harmed, Poirot's curiosity is aroused, and his fears are later confirmed when a body is discovered with a macabre note attached... Could this new murder and the peculiar incident on the coach be clues to solving the mystery of who killed Frank Devonport? And if Helen is innocent, can Poirot find the true culprit in time to save her from the gallows? ...Show more
$32.99
AUD
Category: Chick novels
Cait is a bookshop owner and book nerd whose social life revolves around her mobile bookselling service hand-picking titles for elderly clients, particularly the grandmotherly June. After a tough decade for retail, Book Fiend is the last bookshop in the CBD, and the last independent retailer on a street given over to high-end labels. Profits are small, but clients are loyal. When James breezes into Book Fiend, Cait realises life might hold more than her shop and her cat, but while the new romance distracts her, luxury chain stores are circling Book Fiend's prime location, and a more personal tragedy is looming.   ...Show more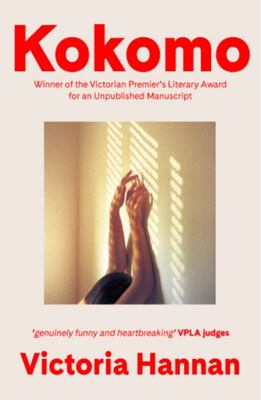 Kokomo
by Victoria Hannan
$27.99
AUD
Category: Chick novels
A stunning debut novel from the winner of the Victorian Premier's Literary Award for an Unpublished Manuscript. 'Hannan's Kokomo is a sharply observed novel of one woman's facade and how it falls; an undoing that is both ordinary and compelling. This debut heralds an exciting new Australian voice with a story of estrangement from kin, friendship, love, self and country - one that will be familiar to many, and surprising, for it is often a shock to see one's reflection.' - Anna Krien, author of NIGHT GAMES and ACT OF GRACE When Mina receives an urgent call from her best friend back in Melbourne, her world is turned upside down. Her reclusive mother, Elaine, has left the house for the first time in twelve years. Mina drops everything to fly home, only to discover that Elaine will not talk about her sudden return to the world, nor why she's spent so much time hiding from it. Their reunion leaves Mina raking through pieces of their painful past in a bid to uncover the truth. Both tender and fierce, heartbreaking and funny, Kokomo is a story about how secrets and love have the power to bring us together and tear us apart. ...Show more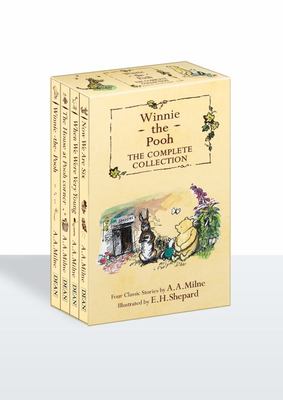 $39.95
AUD
$49.99
(20% off)
Category: Early Readers 0 - 6 years | Series: Winnie-the-Pooh
This slipcase contains four wonderful Winnie-the-Pooh titles - Winnie-the-Pooh, The House at Pooh Corner, When We Were Very Young and Now We Are Six.
$29.99
AUD
Category: Chick novels | Series: Phryne Fisher Ser.
Surrounded by secrets, great and small, the formidable Miss Phryne Fisher returns to vanquish injustice.When a mysterious invitation arrives for Miss Phryne Fisher from an unknown Captain Herbert Spencer, Phryne's curiosity is excited. Spencer runs a retreat in Victoria's spa country for shell-shocked s oldiers of the First World War. It's a cause after Phryne's own heart but what could Spencer want from her?Phryne and the faithful Dot view their spa sojourn as a short holiday but are quickly thrown in the midst of disturbing Highland gatherings, disappearing women, murder and the mystery of the Temperance Hotel.Meanwhile, Cec, Bert and Tinker find a young woman floating face down in the harbour, dead. Tinker, with Jane and Ruth, Phryne's resilient adopted daughters, together decide to solve what appears to be a heinous crime.Disappearances, murder, bombs, booby-traps and strange goings-on land Miss Phryne Fisher right in the middle of her most exciting adventure. ...Show more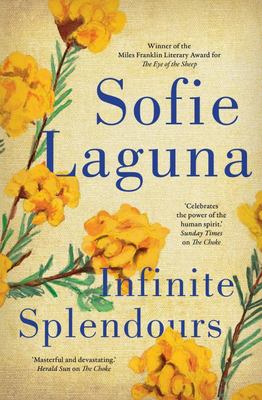 $25.99
AUD
$32.99
(21% off)
Category: Australian authors | Reading Level: very good
A bold new literary novel from the author of the award-winning The Eye of the Sheep and The Choke. Lawrence Loman is a bright, caring, curious boy with a gift for painting. He lives at home with his mother and younger brother, and the future is laid out before him, full of promise. But when he is ten, a n experience of betrayal takes it all away, and Lawrence is left to deal with the devastating aftermath. As he grows into a man, how will he make sense of what he has suffered? He cannot rewrite history, but must he be condemned to repeat it? Lawrence finds meaning in the best way he knows. By surrendering himself to art and nature, he creates beauty - beauty made all the more astonishing and soulful for the deprivation that gives rise to it. Infinite Splendours is an extraordinary novel, incandescent with love and compassion, rich in colour and character. The power and virtuosity of Laguna's writing make it impossible for us to look away; and by being seen, Lawrence is redeemed. And we, as readers, have had our minds and hearts opened in ways we can't forget.   ...Show more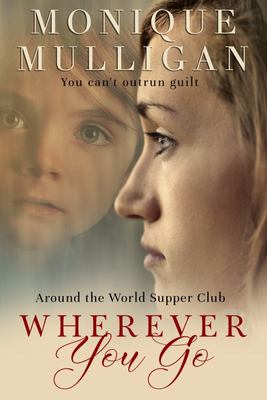 $29.99
AUD
Category: Chick novels
A life-shattering tragedy threatens to tear apart chef Amy Bennet's marriage. Desperate to save it, she moves with her husband Matt to Blackwood, a country town where no one knows who they are.   Forced to deal with her crumbling marriage and the crippling grief that follows her wherever she goes, Amy turns to what she knows best: cooking. She opens a caf showcasing regional seasonal produce, and forms the Around the World Supper Club, serving mouth-watering feasts to new friends. As her passion for food returns, she finds a place for herself in Blackwood. But when a Pandora's Box of shame and blame is unlocked, Matt gives Amy an ultimatum that takes their marriage to the edge.   Rich with unexpected characters and extraordinary insight, Wherever You Go is a powerful and ultimately uplifting tale of heartbreaking loss, recovery, and redemption. ...Show more
$32.99
AUD
$45.00
(26% off)
Category: Drama | Series: The Wolf Hall Trilogy | Reading Level: very good
The long-awaited sequel to Wolf Hall and Bring Up The Bodies; the stunning conclusion to Hilary Mantel's Man Booker Prize-winning Thomas Cromwell trilogy. 'If you cannot speak truth at a beheading, when can you speak it?'. England, May 1536. Anne Boleyn is dead, decapitated in the space of a heartbeat by a hired French executioner. As her remains are bundled into oblivion, Thomas Cromwell breakfasts with the victors. The blacksmith's son from Putney emerges from the spring's bloodbath to continue his climb to power and wealth, while his formidable master, Henry VIII, settles to short-lived happiness with his third queen, before Jane dies giving birth to the male heir he most craves. Cromwell is a man with only his wits to rely on; he has no great family to back him, no private army. Despite rebellion at home, traitors plotting abroad and the threat of invasion testing Henry's regime to breaking point, Cromwell's robust imagination sees a new country in the mirror of the future. But can a nation, or a person, shed the past like a skin? Do the dead continually unbury themselves? What will you do, the Spanish ambassador asks Cromwell, when the king turns on you, as sooner or later he turns on everyone close to him? With The Mirror & the Light, Hilary Mantel brings to a triumphant close the trilogy she began with Wolf Hall and Bring Up The Bodies. She traces the final years of Thomas Cromwell, the boy from nowhere who climbs to the heights of power, offering a defining portrait of predator and prey, of a ferocious contest between present and past, between royal will and a common man's vision: of a modern nation making itself through conflict, passion and courage.     ...Show more
Queenie
by Candice Carty-Williams
$23.99
AUD
Category: Chick novels
Queenie Jenkins can't cut a break. Well, apart from one from her long term boyfriend, Tom. That's definitely just a break though. Definitely not a break up. Stuck between a boss who doesn't seem to see her, a family who don't seem to listen (if it's not Jesus or water rates, they're not interested), and trying to fit in two worlds that don't really understand her, it's no wonder she's struggling. She was named to be queen of everything. So why is she finding it so hard to rule her own life? Perfect for fans of Dolly Alderton, Sally Rooney and Diana Evans, and anyone who loved Fleabag and Dear White People. ...Show more
$32.99
AUD
Category: Chick novels
What would you do if the secret police demanded you spy on a friend in order to protect your family? Three women confront the complexities of trust, friendship and motherhood under the rule of a dictator in this debut inspired by the author's own experiences in Iraq. At night, in Huda's fragrant garden , a breeze sweeps in from the desert encircling Baghdad, rustling the leaves of her apricot trees and carrying warning of visitors at her gate. Huda, a secretary at the Australian embassy, lives in fear of the secret police, who have ordered her to befriend Ally, the deputy ambassador's wife. Huda's former friend Rania, an artist, enjoyed a privileged upbringing as the daughter of a sheikh. Now her family's wealth is gone, and Rania is battling to keep her child safe and a roof over their heads. As the women's lives intersect, their hidden pasts spill into the present. Facing possible betrayal at every turn, all three must trust in a fragile, newfound loyalty, even as they discover how much they are willing to sacrifice to protect their families. Transporting readers to one of the world's most legendary cities, with mouth-watering cuisine, incredible history, a surprising art scene and bustling book markets, Gina Wilkinson's suspenseful debut is told through the eyes of three very different women confronting the limits of friendship and forgiveness, and the strength of a mother's love. ...Show more
$15.99
AUD
$19.99
(20% off)
Category: Drama | Reading Level: good
A universal story of love, friendship, and growing up. At school Connell and Marianne pretend not to know each other. He's popular and well-adjusted, star of the school football team, while she is lonely, proud, and intensely private. But when Connell comes to pick his mother up from her job at Marian ne's house, a strange and indelible connection grows between the two teenagers-one they are determined to conceal. A year later, they're both studying at Trinity College in Dublin. Marianne has found her feet in a new social world while Connell hangs at the sidelines, shy and uncertain. Throughout their years at university, Marianne and Connell circle one another, straying toward other people and possibilities but always magnetically, irresistibly drawn back together. And as she veers into self-destruction and he begins to search for meaning elsewhere, each must confront how far they are willing to go to save the other. Sally Rooney brings her brilliant psychological acuity and perfectly spare prose to a story that explores the subtleties of class, the electricity of first love, and the complex entanglements of family and friendship. Longlisted for the 2018 Man Booker Prize Winner of Novel of the Year at the An Post Irish Book Awards Winner of the Costa Novel Award " Rooney] has been hailed as the first great millennial novelist for her stories of love and late capitalism... she writes] some of the best dialogue I've read."--The New Yorker   ...Show more